Type
UX Design, Accessible Design
Role
UX Designer, Visual Designer, Project Management, User Research
Juxtapose is an election tool to assist new and returning voters in accessing reliable voting resources and to aid in the understanding of the voter process.


The following documentation shows the exploration and development of the application's comparison tool named 'vote navigator'. With this tool new voters will be able to compare election materials by filtering by political party and issue.
Prototype
A working prototype was created to showcase basic flow between the pages.
Screen Test
Screen tests were conducted for for sizing of icons, buttons and text to ensure that they are visible and legible for users to interact with and view.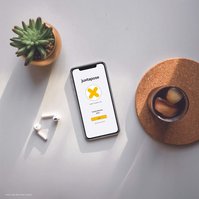 Accessibility
A major challenge when working with this colour scheme was ensuring all the colours can be made AODA compliant. As this application would be used as a tool for a government election, it was important to ensure that the colour combinations met AAA compliance. In cases where AAA compliance could not be met (i.e. yellow and grey, or yellow and white), design rules were created to ensure there was always an outline in use to distinguish elements.
Fidelity Iterations
Below are the initial wireframe mock ups and the prototype fidelity iterations throughout the project.
Design Toolkit
As this application is meant to be used in conjunction with other voting materials towards the election, it was important to remain consistent across platforms so users would be able to easily distinguish its branding and purpose.